Though It Could Have Been Peewee Junior
Top Names for Sons to Think Dad is an Idiot for Naming Them…
Eustace
Algernon
Wilbur
Orville
Cosmo
Galahad
Ogden
Elmo
Dagwood
Ignatz
Ub
Phinneas
Englebert
Poindexter
Not that they won't think dad is an idiot anyway, but this is sure to jumpstart it. Though it is odd how much smarter dad got the older we got.
Filed 12/7/21
Mon Day Fun Day
Filed 12/6/21
And the Answer Is… No
Adapted from the Actually Overheard in Court Files
"So, you claim you suffer from a disease that affects your memory?"
"That's right."
"And how does this disease affect you?"
"It makes me forget things."
"So, could you give us an example of something you've forgotten?"
"Borrowed" from Carmen Maria F Lima, filed 12/3/21
Thinking Off the Rock
Can You Hear the Crack of Dawn?
Filed 12/2/21
Word Balloons
Cluck Cluck Cluck
Mouseover art for punchline
Filed 12/1/21
Still Got Holiday Leftovers? Here's a Leftover Gag
Filed 11/30/21
Your Holiday Ha
The family were headed for our first Thanksgiving at our grandmother's new home in a new town upstate when we got hopelessly lost. Spotting a local farmer beside his car, we pulled over and asked him for directions to Fernville.
"Never heard of it," he replied. "But you're going the wrong way."
Gag "borrowed" in slightly different form from Nick Demartino, filed 11/25/21
Kurmugeon Kat
Marxist-Brandonism Ahoy!
Filed 11/23/21
Talking Heads
What Else Did You Learn in School?
Mouseover art for punchline
Gag "borrowed" from Dana Thayerm filed 11/18/21
Weary the Talking Dog
Carpe Dios
Filed 11/17/21
Thinking Off the Rock
Nothing Succeeds Like Failure
Filed 11/16/21

Monday Mungus
Filed 11/15/21
Word Balloons
What Did You Learn in School?
Mouseover art for punchline
Gag "borrowed" from Mel Loftus, filed 11/12/21
Remember
Filed 11/11/21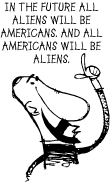 Thinking Off the Rock
…of Somethingorother
Filed 11/10/21
Yesterday's News Tuesday
More accidentally funny but true newspaper headline blasts from the past. Before the news media went full fake. You know, accidentally true. And now, a week's worth (Sunday subscription sold separately) in one day:
Mouseover the daily boxes to reveal the headlines
Filed 11/9/21
One Year Later…
… to the day (almost) I finally add a new old cartoon to the gag cartoon feature of unsold gags. Yeah, some cartoon editors just have no sense of humor. It's a mystery how they ever got the job to begin with.
Filed under Gag Cartoon Gallery 11/8/21
The Porkadile Shoe Has Spoken
Top 13 Variations of John
Jean (France)
Jan (Sweden)
Johan (Germany)
Juan (Spain)
Joan (Catalonia)
Jon (USA?)
Giani (Italy)
Sean (Scotland)
Ian (England)
Evan (Wales)
Ivan (Russia)
Loo (England)
Head (US Navy)
Filed 11/5/21
Kurmugeon Kat
Panic-demic!
Filed 11/3/21
Yesterday's News Tuesday
More accidentally funny but true newspaper headline blasts from the past. Before the news media went full fake. You know, accidentally true. And now, a week's worth (Sunday subscription sold separately) in one day:
Mouseover the daily boxes to reveal the headlines
Filed 11/2/21
Warning: It's Monday Again
Filed 11/1/21