President Announces Affordable Government Act
President Obama announced the Government Affordability and Tax­payer Protection Act last night. The new executive order only awaits Congressional inaction to go into effect beginning last January. Surprisingly, the new law contains only two paragraphs. The first establishes the new Department of Government…
Read it all… filed under Humor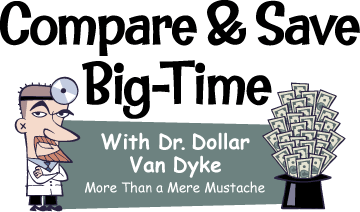 Are You Paying Exaggerated Prices for Exaggerated Differences?
Branding is all about creating a perceived difference in the mind of the consumer about products that are essentially the same. Like different brands of vodka, a flavorless, colorless distilled spirit. How much difference can their be? While various cars seem to be quite different (that's the whole point of styling) in basic utility they differ hardly at all. Cars are machines a person can easily use to travel protected from the elements from point A to B. Let's compare some cars based on that and see what we get…
Read it all… filed under Humor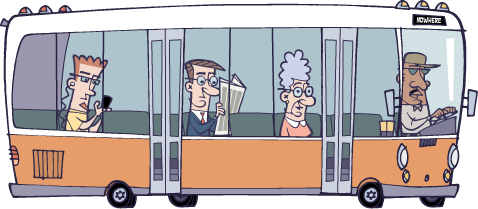 Click pic to play animation
Bus Riding Primer for Dummies
Taking the bus is the newest hot trend folks around the country are flocking to in droves. Okay, that's obviously a lie, but I need a catchy lead-in to this bit. Anyway, sheep come in flocks and cattle go in droves, and who wants to commute like livestock? For the sake of argument, or rather to avoid any argument, let's pretend the opening line were true.
Folks who've never ridden a bus will benefit from some tips on how it's done safely and effectively. Therefore we present this Bus Riding Primer for Dummies. Which is not to say you have to be a dummy to ride the bus, but you may be one if you follow our advice…
Read it all… filed under Humor
Balancing a Bike by Turning
It's hard to believe some people don't believe counter-steering is a real thing. This despite the century or so of motorcycle racers doing it. For those readers unfamiliar with counter-steering, it is some­times stated as, "Turn right to go left." It might sound absurd, but it works.
The first thing we need to clear up is that counter-steering is not really about turning so much as about leaning and balance. Which means "turn right to go left" is misleading though accurate. I'll explain that in a bit…
Read it all… filed under Fun & True
Learn from My Experience, or Get Your Own
There comes a time in life when one feels duty bound to pass on the benefit of one's experience to the younger generation whether they like it or not. Then one can retire and collect Social Security so the younger generation can pass on part of their income in return. Whether this is an equitable trade is debatable. After reading said benefit of one's experience and realizing how paltry one's contribution is, one might conclude there's no debate about it.
One might also realize calling oneself one or oneself sounds pretty stilted and stupid and one should cut it out forthwith. And never again say forthwith, either…
Read it all… filed under Fun & True